Last night was what we had been looking forward to for months: Distant Worlds! It was a little nerve-wracking with catching all the different trains, esp. the Atlantic Terminal which has a tendency to shut down at random times etc.
Jo-chan and I left at around 3:45 and were at Syosset train station around 5. SB wasn't far behind and we got some snacks and water from Dunkin Donuts, got our train tickets, and were on our way. (Note to self: That nice conductor was right: when in doubt, get off-peack tickets. DO NOT listen to the idiot woman on line in front of you and buy PEAK tickets when you're going west in the afternoon. *Kicks random woman*)
Train rides were pretty quick and went smoothly, and the BAM center was literally right around the corner from the Atlantic Terminal. It was a 3 minute walk, 5 at most. We got there, had a look around, and then had another snack upstairs at the BAM cafe, which was really cool. That done, we got our awesome orchestra seats by raound 7:30, and waited, chatting with the folks around us who were just as excited and geeked out as we were.
Jo-chan and I were the only ones in any sort of costume. I'm glad we went subtle. Actually, in the bathroom, two girls were like, "Oh my god, Raine! And Edea!" We were like, "Oh yeah, score. Someone got it, at least."
We all somehow expected Nobuo Uematsu to be the maestro, the MC, really anything. But instead, he came out on stage, took a bow to thunderous screaming and applause, and then took a seat in the audience next to some very lucky fans. He's so cool, with his musical note doo-rag and his long, floofy hair.
They opened the show with the general theme to Final Fantasy, and went right into Liberi Fatali. It wasn't the kind of show where you could be screaming and stomping and cheering, like Video Games Live, so reactions from the audience were limited to whispered "ahhs!" and "OMGs!" and quiet squees. I saw a lot of people hand-flailing just to contain their excitement during their favorite numbers. Personally, I would have gone for Liberi Fatali alone. As I mentioned in a past post that song and I have history.
( History. )
The live version is, of course, amazing.
The show went really heavy on FF7 and FF8, for which I was personally so thrilled. They did a little FF13 too, and some Chocobo stuff which was awesome. And the live version of JENOVA blows away about any version I've ever heard.
I have pics and videos of much of this, but they are mostly crap, since filming and photographs were prohibited, and everything was done on the sneak.
At the end, though, I just shamelessly started recording. I couldn't not, because Uematsu came on stage to sing One Winged Angel with the choir. I can't even tell you how epic that was. (Of note: The choir was singing the words "ira vehementus" when I'm sure the actual words are "ira vehement
i
. And I saw Uematsu singing "ira vehementi" also. I just thought that was weird.) I swear I also still hear "
haryuu no hanekata
the last two times, instead of "Gloriosa Generosa."
The ended the show with One Winged Angel, of course, because you can't follow that. It's impossible.
We had our meet+greet tickets, which was part of what the ridiculous extra cost was for. It was mad expensive, but we all thought, really, when else might we get a chance to talk to Nobuo Uematsu? Maybe even never. But we were concerned because the last train out of Brooklyn was 10:55 unless we wanted to either get a cab to Jamaica and wait until the 1:38 train (and if we missed that one, the next train out was 3:20. WTF. No one wants to sit in Jamaica station at 3 Am.)
So even as the orchestra started leaving, we jumped out of our seats and to the one, teeny tiny elevator. We were actually the first ones to the meet and greet. Uematsu came up at around 10:30. Well, I guess we all kind of lost our cool for a bit then. I wanted him to sign my soundtrack. It's the original, from ages ago, which you can't really find anymore, or so I'm told.
So I went up first, and I forgot the word for "sountrack." I just went, "Uematsu-san, thank you so much, could you sign my, my, my, my.... my thing, my soundtrack paper thing?" He was like, Sure, sure! And I was all "oh, thank you, thank you!" He asked if I spoke Japanese (I might have gotten totally ridiculous and stuttered out an "arigatou gozaimasu!") and I was trying to remember how to say "a tiny bit," (
chiisai, chiisai!
) but couldn't remember, so I just said, "a tiny bit. BUT I TRY VERY HARD."
Umm, then I moved aside from SB who went, "Umm, wow, thank you for the music, umm, HAHAHA!" and shoved his ticket to be signed. Uematsu was very obliging and he was like, "Oh, you're welcome," and SB was like, "THANK YOU FOR COMING TO NEW YORK, HAHA."He couldn't stop grinning. Then he said hi to the conductor, Arnie Roth, who also signed his ticket.
Jo-chan came up next, and she had the presence of mind to actually
FORM WORDS
to him and have an actual conversation. She told him that Final Fantasy came out when she was five, and that his music had been a part of her life since childhood. He asked her, "Did Final Fantasy come out when you were five, because I doubt that," and she said, "No, Final Fantasy VII, my favorite." He asked her if she had played when she was a child and I jumped in and said, "They both played Final Fantasy since childhood, I insisted." Everyone got a laugh out of that.
We got our pics, thanked them both again, and then sort of floated euphorically out of the building.
Outside, Jo-chan said she'd been close enough to smell his hair, and we decided that he smelled like the Promised Land, or newly formed Materia.
When we got to Atlantic Terminal, they had a gate across the entrance. I pushed it aside and went inside anyway, where some guards were like, "No, no, you have to take the elevator, the stairs are closed!" I was like, "Umm, why are the
stairs
closed? And there had better be a train at the bottom of the elevator."
Fortunately there was, and we caught it in time. We made the 10:55 train by a ten minute margin; that's how quickly it was all over. We were laughing and ridiculous for the entire trip back.
We got back to Syosset at 12:15 AM. Jo-chan got a sandwich from Dunkin Donuts, while SB headed back to campus.
We were back at my house at 1:15 AM, which was such a relief, when my worry was that we wouldn't even catch the 1:38 train.
But anyway. Oh my gosh, what a beautiful concert, what a fantastic experience. We got to talk to Uematsu-san, and Jo-chan expressed for all of us what we wanted to say to him.
( Pics, of course! )
Too cool to cut!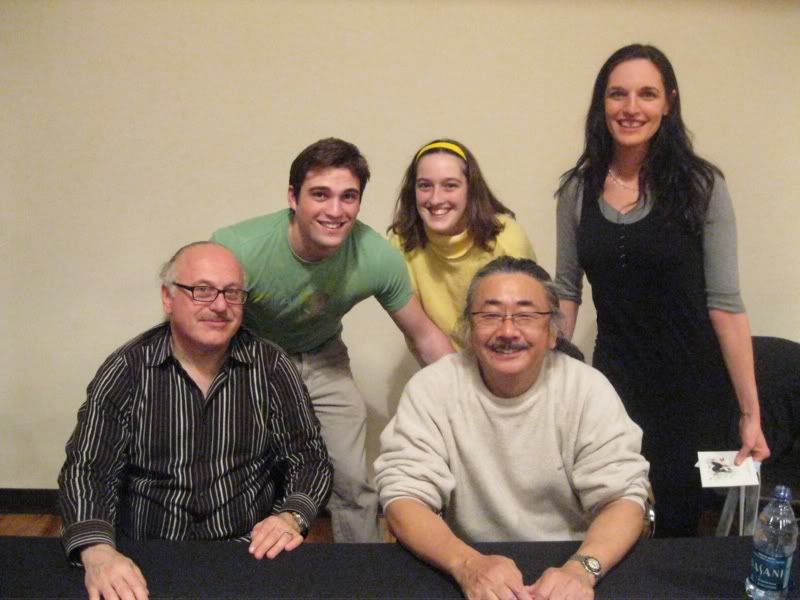 Squee, squared. Pun more or less intended. :)
Today is much less awesome, but that doesn't belong in a post about things like this – I don't want to cheapen or lessen the thing that happened today by mixing it in with my fannish joy, because it's, sadly, too serious in nature for this stuff.
More later, but for now, I'm going to hold onto lsat night's joy for a while.